| | | |
| --- | --- | --- |
| | | Tribute to the Victims and Families of the Paddington Rail Crash |
---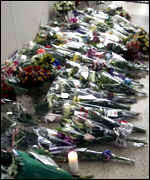 Flowers left at Reading Station
Paddington Rail Crash - 5 October 1999
This is being written while the final figures of casualties is still unknown. The train would have travelled through Hillingdon Stations on its journey to Paddington and many local people are shocked by the disastrous event and would like their feelings of shock, horror and sadness to be known.
Their prayers, support and goodwill are given to the families and friends of the people who were injured and killed in this terrible disaster.
We now know that 31 people were killed and many more were injured. You can click here if you want to find out more about the disaster: BBC Special Report
---
Return to Welcome Page | Return to Transport Page
---
If you came to this page directly without coming via Hillingdon On-line please click here
---
Hillingdon On-line is best viewed using one of the following browsers.
Follow these links to get download instructions to lay hands on the software for free!